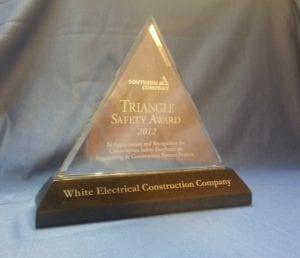 Southern Company presented White Electrical Construction Company of Atlanta with their Triangle Safety Award for work completed at Plant McDonough Combined Cycle Plant Unit 6 in Atlanta, GA.  The Triangle Safety Award is a Southern Company honor which recognizes contractors that achieve high levels of safety performance.  Eligibility for this award is reached when a contractor has completed over 100,000 man-hours on a Southern Company project site over the course of a year and has zero recordable injuries, missed work days or accidents, as well as no OSHA citations.  
This prestigious award was handed to only 7 of over 170 contractors Southern Company worked with during 2012 that met or exceeded the stringent standards.
White Electrical was founded in 1910 to serve the growing needs for electricity in the South specifically the cotton and textile plants. White Electrical has grown into a full service industrial electrical contractor supplying many different industries including: automotive, food/beverage, power, chemical, pulp/paper, healthcare, military, pharmaceuticals, water treatment, and general manufacturing.
White Electrical provides full service construction, project management, and maintenance in some of the following electrical contractors areas:
Power distribution systems & switchgear
In-plant distribution systems
Motor control centers and breakers
Generating systems
Instrumentation, installation and calibration
Fiber optic cabling and splicing
Emergency repairs
Plant-wide electrical maintenance
Design build services